Dedicated to saving the lives of
We collaborate, communicate, and educate about the importance of animal rescue and welfare, as well as conservation. We strive for a world where every animal has a safe and loving forever home. John's Pass Rescue has a No Kill Stance.
John's Pass Rescue Inc. was founded on the idea of helping animals in need. Since our organization was established in 2019, we have endeavored to provide help where the need is greatest.
We appreciate all your donations!
Federally Registered 501(C)(3) Nonprofit Corporation.
All Contributions Are Tax Deductible.
Life changes for all of us and you never know if you may find yourself in a position where you need to place your animal or pet. If so, it does not necessarily mean you never should have gotten it or that you didn't love it. The same as with domestic animals, the reasons vary. It simply means something in your life changed. We do not advocate obtaining animals without a great deal of thought and research. Nor do we encourage people to easily obtain the animal and then dump it. However, we do understand unforeseen circumstances.
If you or someone you know has a wild or exotic animal that needs to be rehomed for whatever reason, please call us for assistance (727) 329-8751.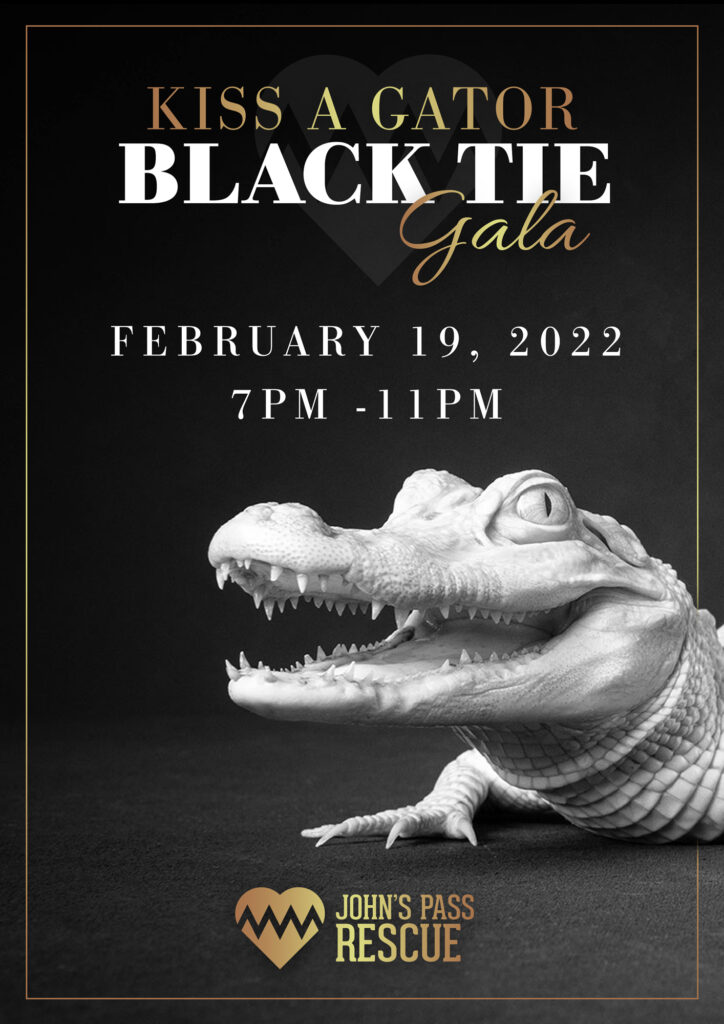 Kiss A Gator Black Tie Gala
February 19, 2022 7pm-11pm
Cocktail Reception • 6:00 – 7:30pm

Entertainment provided by LaRon Hearst LED Violinist
Silent Auction Opens
Photos with special guests from Alligator and Wildlife attraction
Welcome & Introduction • 7:30pm

Silent Auction Closes • 7:45pm
Dinner is served
Dining entertainment featuring Chandler Nelms
MC – Robert Boyd of ABC Action News
Dancing with Stereo FM • 9:00 – 11:00pm